The journey of Lauren Di Meglio is a testament to the transformative power of passion and dedication. As a recent graduate with a double major in Tourism & Hospitality and Events, her love for the ocean and marine experiences has driven her to make a meaningful impact. Her family's deep-rooted connection to the shipping industry has given her unique insights and a profound desire to preserve the beauty of our natural world for generations to come.
It was through Eco Fashion Week Australia (EFWA) that Lauren found a platform to marry her love for the environment and her burgeoning interest in fashion. Her initial experiences as a model for EFWA were nothing short of exhilarating. The exposure to sustainable fashion practices, coupled with her growing awareness of the environmental impact of fast fashion, ignited a profound shift in her perspective. This journey with EFWA has left an indelible mark, influencing her career path in eco-tourism and shaping her commitment to making conscious choices, supporting local businesses, and promoting sustainability.
Lauren's story is an inspiration for aspiring individuals seeking to make a positive impact on the environment. It's a reminder that every small step towards a more sustainable future counts, and when fueled by passion, the possibilities are endless. EFWA, with its focus on sustainable fashion, played a pivotal role in guiding Lauren toward a career dedicated to eco-tourism and environmental preservation. The journey continues, and the influence of EFWA shines brightly in her path ahead.
Can you tell us a bit about yourself and your background in the eco-tourism and fashion industries?

My name is Lauren Di Meglio, I am 22 years old and have recently graduated from Curtin University with a Commerce degree, double majoring in Tourism & Hospitality and Events. Growing up I've always loved the ocean, beaches, rivers, and any body of water. Living in Perth and consistently traveling back and forth from a small fishing island in Italy, Ischia, my family and I have always been lucky enough to surround ourselves with marine experiences almost daily. My immediate and extended family on both sides work within the shipping industry, which has given me the opportunity to learn insights into the industry. As my love for the marine world grows, so does my passion and desire to preserve the experiences it provides for future generations. I intend to use my degree to help conserve and protect tourism destinations and to develop environmentally-conscious experiences for visiting tourists and locals.
How did you first get involved with Eco Fashion Week Australia (EFWA)? Can you share your initial impressions and experiences?

In 2017, I had been with Dene for 2 years and was confident in front of a camera and up on the runway. She mentioned a modeling call for Eco-Fashion Week Australia, an idea/concept that I hadn't heard of before. From the moment my mum and I met Zuhal, we knew we wanted to be a part of EFWA! We would go to Fremantle every 2nd weekend to practice walking, try on beautiful garments, and involve ourselves in extra opportunities; Dowerin Field Days, Taylor Winery Events, etc.
The EFWA 2017 event was thrilling! As a 16-year-old, having the opportunity to be photographed, interviewed, and walk the runway in front of a new and growing audience every night for 5-days was incredible. The confidence and pride the experience gave me is something unmatched.
Going into the 2nd year of EFWA, Emily Craig, Taleisha Lee and I (and our mothers) were lucky enough to work closely with Zuhal. We would assist in running the runway training for the EFWA 2018 team, we were involved in numerous "bonus" photoshoots for the Green Embassy and even other international designers. We will always be EFWA's and Zuhal's #1 fans.
EFWA is known for its focus on sustainable fashion. How did participating in this event influence your perspective on fashion and sustainability?

I learned so much from Zuhal and the other designers about fashion pollution/fast fashion, up-cycled fashion, natural materials and dying processes, and all of the individual and unique ways that the designers would create their art. Learning these things gave me an appreciation for the designers and their work as it gave me an insight into the thought process behind the end result. It taught me, as a teenager who would regularly shop with friends at fast fashion outlets, the impact that my actions have on the environment around me, socially, economically, and environmentally. This helped me to rethink and reassess;
1. What do I want to support; big corporations who mass produce low-quality items or individual artists who carefully craft their designs with passion and consideration?
2. How can I benefit from buying locally or from slow fashion artists?
I learned that although slow fashion items may come with a bigger price tag, the item would always last in my wardrobe for longer as it isn't trying to fit into a trend, the quality is better, and the personal connection with the piece. The knowledge that I learned from EFWA has stuck with me and has inspired me throughout my studies to keep conscious of my impact, current and future.
What aspects of EFWA's sustainable fashion ethos resonated with you the most, and why?

I love that EFWA stands to educate, promote, and entertain its audience, both through physical events and media content, on the importance of shopping quality, and slow fashion. It teaches you to shift your perspective of fashion, reconsider your shopping habits, and make a more conscious and educated decision when it comes to shopping. The knowledge and moral value that EFWA passes on to its audience plants a new way of thinking that will ultimately benefit the individual, the fashion industry, and the environment around us.
In your opinion, how do sustainable fashion and eco-tourism intersect, and what role do they play in promoting environmental consciousness?

In my view, I wouldn't be able to work for an eco-industry while ignoring another. I chose to venture into the eco-tourism industry because I want to preserve and conserve the natural environment around us, although my work may not directly correlate with the fashion industry, they ultimately have impacts on each other in the long run. The overarching ideologies of eco-fashion and eco-tourism overlap, for example, the simple idea of supporting local businesses is always a great way to ensure you are getting quality products and/or services.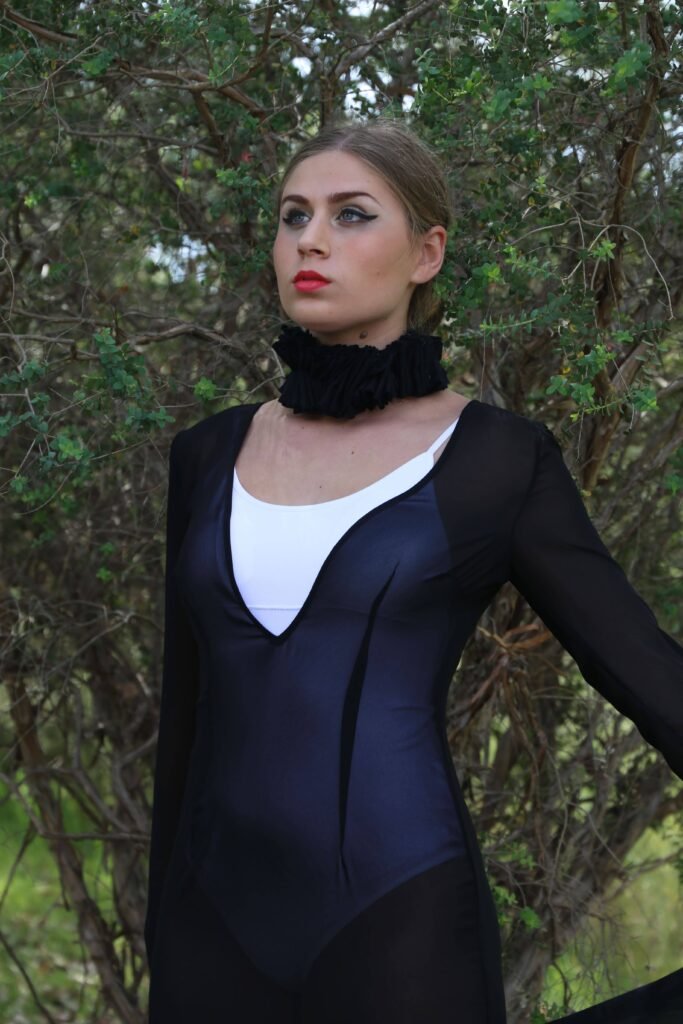 How has your involvement with EFWA influenced your career path and aspirations, particularly in the field of eco-tourism?

The knowledge I gained from being a part of EFWA has assisted me throughout my studies and my day-to-day decision-making. During my time with EFWA I have traveled to many WA towns and locations, learning about their agricultural practices and the different ways of living (rural vs. city living), I learned about small, conscious decisions that people make in their everyday lives that benefit themselves and their environment. Through learning these behaviors and seeing the impacts that these could have on a community, I became intrigued by the small changes I could make to benefit other towns and individuals. This sparked an interest in tourism development and helped me throughout my studies by relating to these experiences.
You have just obtained a bachelor's degree in commerce, majoring in tourism, events, and hospitality. How has your education complemented your passion for eco-tourism?

Throughout my degree, my favourite units were always the ones that covered tourism development and tourism conservation. I felt as though these units taught me the most about how I could make an impact through eco-tourism and allowed me to fuel my passion. I used my assignments as a means to put my ideas of conservation to the test, and I often reflected on my years of travel and experiences abroad. I would tailor my assignments to marine-based destinations when possible to keep my engagement high and use my knowledge of the shipping industry and individual companies to my advantage. Eco-tourism allowed me to find an industry that incorporated all of my interests and aspirations.
What advice would you give to aspiring individuals who are looking to make a positive impact on the environment through their careers, whether in fashion or eco-tourism?

Through my studies, I was often overwhelmed with the facts of how much damage has been caused by the fashion industry, how difficult it can be to make a conscious decision, and how I would be able to make a difference. It is important to remember that all you can do is take a step in the right direction, and then another, and another. Throughout my assignments, I would make conscious decisions about the destinations I was researching to make them relevant to the field in which I aspire to work. I would suggest to do the same, study and research the areas that you are passionate about. Take lessons that you learn through your studies and apply them to everyday living, and vice versa, take lessons and experiences from your years of living and apply these to your studies. If you love what you do, you'll never work a day in your life.
Is there anything else you'd like to share about your journey, your passion for eco-tourism, or the influence of EFWA in shaping your path?

EFWA has made a massive impact on my personal journey, it has taught me so many life lessons and has given me the opportunity to meet incredible individuals from all around the world. The years of getting to meet and know Zuhal, her family, and the other amazing friends that we still hold close to this day, was an incredibly valuable experience that I am so grateful for.
Click to find out more about Lauren Di Meglio and Eco Fashion Week Australia.
This is part of a series where Green & Beyond Mag explores the stories and takes a peek at the lifestyles of incredible people like green entrepreneurs, innovators, climate advocates, activists, community leaders, and content creators, all around the world, who love the planet and are working tirelessly to make the world a better place.