Join us at Cleantech Forum Europe on 14-16 November in Tallinn, Estonia for three days of insight, opportunity, networking and knowledge. This year's forum will be co-located with Tallinn Greentech Week, which includes NEXPO, where Forum participants can save 50% on exhibition space, as well as several affiliate events focused on progressive ideas in green innovation, taking place at the host venue and around the city.
Cleantech Forum Europe offers participants easy access to start-ups, scale-ups, investors, and multinationals from across the region and beyond. Not only will you meet the future of Europe's sustainable innovation ecosystem, but you'll also discover the global connections that will fuel your next opportunity.
Register to experience:
High quality networking opportunities with leaders in the sustainable innovation ecosystem—start-ups, scale-ups, investors, corporates, government and more.
A research-led agenda covering the most critical issues of today and the innovations needed to achieve net-zero.
Experts with big ideas and the power to deliver a cleaner, cooler world.
Many of the different companies featured on the 2023 Cleantech 50 to Watch which will be released in October.
A number of leading companies from outside Europe who will be present, and motivated to explore opportunities and partnerships for their innovations in the region.
What to expect when you participate:
Don't miss this great opportunity to connect and learn from the world's leading authority on cleantech innovation as we dive deep into topics like electrolyzers in green hydrogen, energy storage, alternative heating solutions, green steel, and many other timely and relevant mitigation, adaptation, and resilience topics.
In addition, there will be great social events like receptions, lunches, an Awards dinner, as well as many opportunities to network and have business development meetings with participants.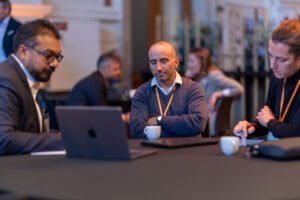 Who Participates
Cleantech Forum Europe connects the latest generation of start-ups with investors and corporates looking for new partners. You'll meet 300+ forward-thinking colleagues who can take you in new and exciting directions. 
See who has registered so far for Cleantech Forum Europe 2023 in Tallinn.
Cleantech 50 to Watch
Every year, we unveil a new edition of the Cleantech 50 to Watch, a list of early-stage innovators taking action on the climate crisis. This report will introduce you to innovative companies with the dedication, technologies and business models that make it possible to fight the climate crisis and make a fair profit. Deployed at scale, their solutions could change our current destructive economy, and put us back on a climate positive path.
The 2023 Cleantech 50 to Watch list will be released in October. Participants of Cleantech Forum Europe will have the opportunity to connect with many of the companies on the list at the event.  
Contact
If you have any questions about Cleantech Forum Europe, please feel free to contact us at forums@cleantech.com.