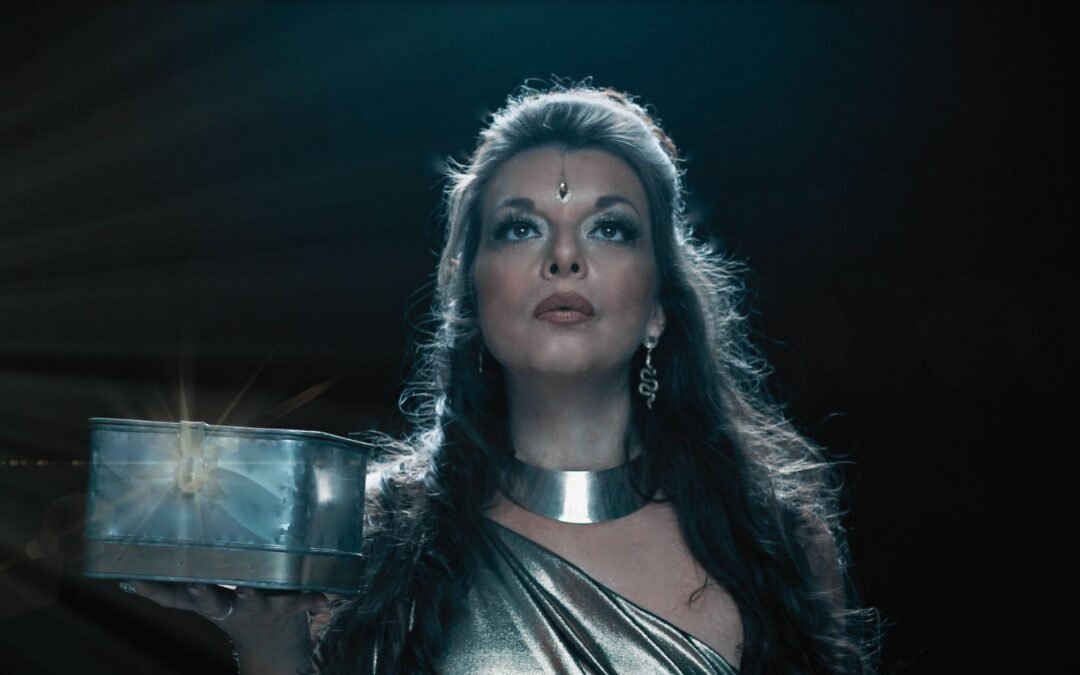 Music is a magical form of art that has the power to touch souls. It has a way of connecting people, beyond language barriers and cultural differences. Music fosters a sense of belonging and community by enabling people to express themselves and engage with others on a deeper level. As we listen to music, we are taken to a world of emotions and feelings that can make us feel alive, bring us peace, or even inspire us to take actions.
And it's not just people who create music. With its own distinctive sounds and rhythms, nature contributes to this symphony as well. Birds tweeting, leaves rustling in the breeze, and waves crashing on the shore: these natural sounds influence musicians and artists to produce music that captures the splendor and majesty of our planet.
Inanna, also known as Annalisa G. Dunker is one such musician who uses her art to promote environmental sustainability and inspire people to take action for the future of our planet. Through her soulful songs and fascinating videos, Inanna conveys a message of harmony and hope. She believes that music can be a powerful force for change, uniting people to safeguard the environment and build a better future for future generations.
In this exclusive interview, we speak with Inanna about her journey as a musician, her inspiration for writing about environmental issues, and how she envisions her music influencing the world for the better. So sit back, relax, and join us as we delve deeper into the world of Inanna and her music.
What inspired you to use your creativity and imagination in singing for the planet?
I moved here to Los Angeles in the summer of 2018, I knew that at that point I had a clean page that I could start again, in this city with many things that I am passionate about. It was actually very easy, kind of a quick-change, not only of life but of career in general.
Music-wise, I had done a lot of things before – I had been a singer before in several bands and projects, but I kind of felt I still needed to find my own voice. And this time, I really wanted to do it with something with a deeper meaning with something that I could really stand for.
So the project started because I moved here and I wanted to do something on my own – produce music on my own, find my own sound and my own real voice in the music and I wanted my music to have a specific message. In this case, it was speaking up for the environment and the future of nature, the future of animals and the whole planet. And so I simply decided to dedicate all my music to that.
I really felt I had to do it because in those times, especially in early 2019 with all the new protests and Greta Thunberg and all the movements that were appearing more and more, everywhere I felt I wanted to do more apart from just changing my daily habits, or do little modifications in my daily life. I really wanted to speak up and to contribute to a cultural change and I thought – "What's better than to be able to change culture itself? " And I thought that I would do it through music because it's one of my skills and one of my passions and that's how it happened.
So, I've been working on all these songs and all the imagery and products around it since 2019. 2019 was the time when my very first single that came out. It came out in May 2019.
What inspired you to take the name "Inanna" and what does that mean to you?
Inanna is the name of the Sumerian goddess of love and harvest but also war and justice. I thought, the name of a goddess is something timeless that would be good for this project because I want to give a timeless feel to my music. And also, I'm talking about such enormous topics and issues. I'm taking on this task of discussing the future of humans on the planet and the future of nature – the future in general. So I thought that maybe, only the name of a goddess could contain all that.
I think what I loved the most in Inanna is her duality as a goddess figure. I felt it really fit with this project because on one hand with this music, I'm trying to invite people into a possible world where things are done better, where we reach a higher place, a better place in our relationship with animals and nature. But on the other hand there is witnessing and acknowledging everything that is happening and everything that we've done.
So there is this dual thing of the need for love and togetherness and connection and work all together but also the rage and the sadness for everything that unfortunately humans have done to the planet and animals. So I really thought it was a perfect match. I also liked that the name contained part of my birth name, which is Annalisa and this "Inanna" had a little bit of a part of me too, so I feel that Inanna is kind of an amplified version of myself.
Do you think art – different forms of art, can play a significant role to motivate people to take actions in their daily lives, especially now, when the climate crisis is getting worse with every passing day?
I think that all art forms and music in particular, play an enormous role in cultural and social change. Arts have an incredible power to bring people together to inspire collectivity. They have the power to speak to conscious and unconscious layers of ourselves. And that's why in many people at many times and all points in time, they have the capacity to create these moments inside a person where you understand something in a much deeper way, in a way that only a piece of art can make you see or understand. So, I have a deep respect for all artists who are using their skills and their capacities and their tools to speak up for the things that we should definitely change, revise, redefine.
Another factor that is very important when it comes to Arts is their kind of ritualistic power, specially with music. Not only they bring a group of people together but all the people get to feel something together at the same time and even if it's different, maybe from person to person but there is something in common, like a common ritual and I love ritualistic events because I always say – "Rituals are made to get one person into the ritual as a person and then when they go out of the ritual, they actually go out as someone else because the ritual actually does something to you". And I feel that is exactly what I'm trying to do with my music and I feel that's what the Arts should do, to really make you feel different after you experience that piece of art.
How can artists collaborate to make the climate movement stronger and more fruitful?
Artists can collaborate in so many different ways. I have seen it lately especially from the very beginning of this second big wave of the environmentalist movement that is growing and growing – I have seen so many organizations, associations, platforms, digital platforms and artistic endeavors being born in the last three and a half years. At the beginning of 2019, I thought I was maybe one of the only ones that were doing this – as a musician. But I've seen so many things happening since then and artists can definitely find so many ways to collaborate in events where they can do things together, support each other, uplift each other, help each other.
So, what I do personally is really try to stimulate and give a further impulse to gatherings like, really doing things together, whether it is an event where we talked or there is an artistic community coming together for a concert, or maybe I've been getting in touch with a lot of other organizations to see if we can do something together. I think, especially in these times, uplifting each other and togetherness is one of the most important things we can do. We should not see each other as competing artists or competing organizations. Because we're really talking about the future of everything, the future of our soul. And if there's something that we all have in common is this home, this planet and we must take care of it together.
So what I definitely recommend to all artists, entrepreneurs who are speaking up for the future of the planet and working for the future of the planet – "Get in touch to try to do things together. You're not alone. There are so many other people doing the same and together, you're stronger together. Together is much better."
What do you think are needed as ingredients of a song that can create that can inspire change?
I don't want to talk about the ingredients to make a perfect commercial song, that works for sure in a radio context or in a TV show context. To me, what really matters is speaking to two different levels in a person. Like if you have a catchy song, that's great because it's already the first element that will get to someone, but if that song already has a message that's even better. And from that message, if you have different layers that will touch and communicate to different people – that's even better. I think it's about making it really broad and generous.
I think with the meaning you really want to try to communicate something from who you are from an authentic place. I always try to write from who I am and what I really think. I never write thinking – "Oh what is going to make people feel good or what is going to sell?" I always try to be as authentic as possible and I think that's the best ingredient that you can put in any piece of art, for sure.
Polluters have surely lost the empathetic connection with nature, and we believe that your songs have the power to mend that connection which might make them take a stand on the right side. How do you plan to get your music to reach them?
As I was saying, the way I am trying to reach people wherever they are in life and wherever they are in the world and whatever historical experiences they have is to try to meet them where they are and to simply invite them to another view, another way of seeing things, I really think it's important not to impose certain views.
Because we don't know where other people come from and their past experiences and their life history. So I think one element is to be able to invite someone into something you deeply believe, as you know, your life mission and you think it's really important for everyone. And for the future is to try to invite with generosity and invite with a smile and always try to make people try to feel what you feel like.
I really want to gather people around me, through a sense of understanding and empathy. I don't want to blame even if I know it's hard because we get very angry sometimes, especially environmentalists or animalists, we always think – "Oh my goodness, this is never gonna get fixed. How can some people do this? And they don't see it." Of course, I have those moments too and we all have, but I don't think it's the most effective way to invite people to what we consider the right side. I think you always have to meet people where they are and understand the enormous complexity of certain systems.
So, I think that it should always start from a place of compassion and empathy, you should always try to meet everyone where they are at, even if you know, that certain people or organizations are actively working against the future of nature and everything, we know of this planet, but the reality is so incredibly complex that the best way we have, probably, the only way we have is to try to invite always through compassion and understanding.
What's your take on climate optimism as an artist and an activist?
I have to say that it gets very hard at times to be optimistic. Because even if I am constantly surrounded by incredible communities of environmentalists and animal rights activists that make me feel that everything is possible – that we are changing the world conversation by conversation, little by little, song by song, but at the same time you also see the tendencies and what's going on in the world every day, it's tough to see that a lot of things are not changing at all. But I always tell myself, – "Should I just give up because I don't see the change that I want to see? And in the time frame that I want to see it?"
I know what I stand for and I know what I believe in. I am dreaming of a future where nature is always considered in every decision of society and economy. I'm dreaming of a society where animals are not exploited anymore, and are not mistreated anymore. And it's a society that I acknowledge. I don't acknowledge animals as other beings that live here on Earth with us and not for our own benefit for us.
So, I'll just keep working for that, and I know that, even if the changes are not as fast as I would like them to be, changes are definitely happening. And that's what keeps me optimistic. Because I see that change happening around me every day, even in the arts.
Where do you think "spirituality" stands with art and activism? Do you think that understanding "spirituality" is important to feel more environmentally empathetic?
Yeah, definitely. There is a kind of spiritual element in my songs. To me, it translates into something very simple, which is a feeling of reverence. To me that's what spirituality is in general. It's this feeling of reverence towards everything that is alive towards the beauty, amazing, incredible wonders, that this planet has, this incredible biodiversity of all animals, all earthlings. The feeling of reverence when you really see that and take that in is automatically spiritual to me. And that's the feeling of rediscovered awe, that I would like to transmit through my songs and through the imagery and everything that I'm trying to do. So I guess it's just that big feeling of awe and reverence towards the Earth and all Earthlings.
Tell us about your favorite song and why it's your favorite.
It's difficult because I'm very attached to several of the songs, of course, on different levels, and for different reasons. But I think that if I had to choose one, I think I would still choose "Change" which came out last year for Earth Day.
I think mostly because it's the one that probably sums up the whole Inanna style among all the other songs. Because it's got a powerful message, it's got a little bit of the rage, it's got a hopeful message of togetherness and coming together for something, it's got a little bit of Middle Eastern hint – which is something that I do. I feel it's a song that really summarizes a lot of what Inanna is. So I think I would still pick that one. Yeah, it's definitely "Change."
Who are your biggest inspirations?
People that have inspired me and that keep inspiring me – I have to say, one of the first ones that really made an impact was Charlie Chaplin and it all started because of my grandfather who was very passionate about him and all his movies. This may have got nothing to do with the environmental movement but I loved the fact that he had such a clear vision for everything that he did. His movies and everything was almost made by him single-handedly. I simply admire that all his art was really his fruit, like his product from top to toe because it was really coming from an authentic place of who he was and what he believed in.
Other inspirational figures, definitely all the current environmentalists that are doing so much for the planet. I always loved Jane Goodall – absolutely a hero of mine. I really admire what Leonardo DiCaprio is doing. I really hope to meet him at some point. I really admire all the work he's doing and all the documentaries that he is funding.
Knowledge is power – when we know, when we're aware of things, we can choose better, we can do better. So every artist that really takes time and spends resources in spreading knowledge, I have a very, very big admiration for them.
Another person I really admire that I have had the honor to meet lately is Maggie Baird. She's the founder and president of "Support and Feed" an organization that I love. Maggie is Billie Eilish's mother. She's been working so hard to promote the plant-based equitable food system. And I really hope her organization will grow more and more because it's really fantastic what they're doing.
What's your mantra for life?
I don't know if it's actually a mantra for life but I love to sign my newsletters and my messages to my fans and people that know the Inanna project with this little sentence – "A hand is a paw is a fin is a wing. – Inanna."
Find Inanna and learn more about her at www.inannamusic.com
This is a part of a series where Green & Beyond explores the stories and takes a peek at the lifestyles of incredible people like green entrepreneurs, innovators, climate advocates, activists, community leaders, and content creators, all around the world, who love the planet, and are working tirelessly to make the world a better place.