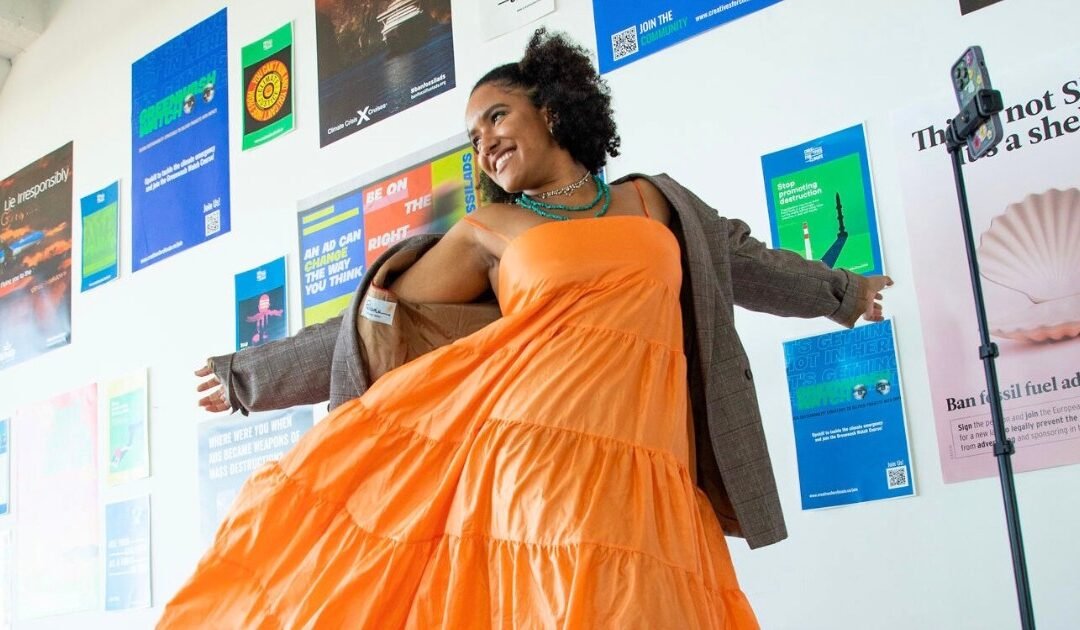 22 years old Estella Struck from New York is the face behind the world's first Gen Z-run sustainable product marketing agency, Viviene New York. The platform is utilizing new perspectives, technologies, and the power of community to help mission aligned brands reach broad Gen Z adoption. In this exclusive interview, we speak with Estella about her journey as a young digital entrepreneur, and take a look at how she practices sustainability in her regular lifestyle.
Estella, tell us a bit about yourself and how your journey started.
I'm 22 years old and live in New York City where I work as the CEO and Founder of Viviene New York – the world's first Gen Z run sustainable product marketing agency on a path to make sustainable brands the cornerstone of my generation. I am currently a junior at NYU studying the intersection of climate action and business. I've always been interested in science and wanted to have a positive impact on the world through my job. In high school, I thought that becoming a doctor would be my path to this. However, during my first year of college the pandemic hit and quarantine changed my life. All of that free time allowed for environmental TikTok creators to expose how the industries and systems that we currently live under are contributing to the climate crisis. I am someone who has always wanted to contribute to the world in a positive way. So this period of isolation and self reflection led me to realize that I am a climate advocate and entrepreneur at my core. Climate advocacy through entrepreneurship will be the path I travel down for the rest of my life.
What was your inspiration for founding Viviene New York?
I started my very own sustainable fashion brand called Ethica NYC after learning about the adverse effects of the fashion industry in spring 2020. This was due to an onset of climate anxiety, the need for climate action in my life in order to calm those thoughts and quarantine boredom. Ethica quickly blew up on TikTok amassing over 4 million views and 200k followers in the first two weeks following its launch. I ended up taking a gap year for the 2020 to 2021 school year in order to hone in on my marketing skills. The realization that social media can truly drive impact and my hunger to change my generation's perspective on climate change inspired me. With lots of time alone with my thoughts during my gap year I figured why not work to build something that can actually create change on a larger scale. Thus, Viviene New York was born. Our goal at Viviene New York is to change the brands that Generation Z is loyal to, while helping sustainable brands rule the online landscape. We do this not only for our own future, but for the future of generations to come, who will inherit the environmental and social impacts of the choices we make today. 
What makes the business unique?
Viviene New York is a force to be reckoned with and is more than just another digital marketing agency. We are an organization building a movement; creating a more sustainable future by challenging the way Gen Z thinks about the power of their capital. As a majority-female team of digital natives, we are unafraid to push the boundaries and challenge the status quo. In fact that is our exact prerogative because if I am going to be real right now – Many brands today are simply slacking in their video content and most don't even realize it. At Viviene New York, we take pride in our ability to create authentic and engaging content that resonates with our clients' audience while attracting new customer segments! We understand that the social media landscape is constantly evolving, and we adapt accordingly to ensure that our content remains fresh, relevant, and effective so that our clients can focus on what matters – growing their business and saving the planet. Our case studies have even shown that we know what we are doing. In fact our content creates engagement momentum with increases of engagement spanning 100-500%. As a team of digital natives, we know what it takes to create content that connects with viewers on a deeper level, and we strive to set the bar for performance higher. It's not just about having aesthetic content, it's about having content that truly speaks to your audience and drives them towards action. That's why we are unique. That is what sets us apart from the rest.
Is Viviene New York working on educating the consumers?
I got my start in content creation through educating consumers about how their fashion purchases can make a difference. While I do see the value of educating consumers online, the content we produce for our clients is dependent on their organizations needs. Ultimately our goal is to increase the effectiveness of their content and oftentimes people on social media are just looking to mindlessly scroll. If a brand is specifically looking for educational content or we deem that it is necessary to increase conversions we can absolutely execute on that vision. Education is awesome, however we know that climate education is extremely overwhelming and complex. We are targeting individuals who know about climate change's existence but have not yet taken action in their lives so our strategy has to be carefully assembled. 
What are the challenges that you had to overcome while trying to turn your incredible idea into a business?
One of the largest challenges I've faced as a Gen Z founder is typically being the youngest person in the room at climate events and limited access to funding. In the 2 years I have been working on Viviene New York there have been countless times where I have shown up to a conference or event expecting to connect with a younger crowd and have ended up the youngest person in the room by a decade. While I do see this is a privilege and opportunity to establish myself as a Gen Z leader in the space, at times it can be a bit discouraging. I have been looked down upon or not taken quite seriously due to the fact that I became a founder much younger than most. Another challenge I have faced as a Gen Z founder is lack of funding. I am bootstrapping Viviene NY and paying for college myself. I decided to attend the university to execute a strategic plan to build something that does my part to help save the planet. I did not shy away from the challenge and instead viewed it as an opportunity to make the most out of the moment. This school allows for the experience of building my company to feed into my degree and my degree informs the decisions made at my company. Most college students wait until they've already graduated to start making a return on the investment that is a degree, but I built the infrastructure to get that return as we speak. I had no choice but to turn this challenge into an opportunity because I wanted to pursue my passions as a generational leader in such a new industry. Despite the challenges, I am so glad I listened to my gut and went for it! 
Related: Building a Sustainable Business: Practical Steps to Make a Positive Impact
As an entrepreneur, how do you deal with negative emotions like self-doubt, criticism, or burnout and keep yourself motivated?
'Be the change you wish to see in the world'. I think I was in the first grade the first time I heard that quote. It has definitely stuck with me ever since and keeps me working hard on a day to day basis. Knowing my work is diverting clothes from landfills, empowering carbon capture technology, and uplifting brands that are working towards ensuring humanity has an inhabitable planet keeps me going. Building a company is no easy feat and when burnout happens I prioritize my sleep, and get offline. For me, when times are hard and I keep hearing the word 'no', knowing that I'm having a positive impact on the fate of the planet really keeps my head in the game.
How do you define success? What has been your greatest success so far?
In 2021, during my first month at NYU one of my sorority sisters from my first college reached out to interview me for an entrepreneurship class. Below is an excerpt about my definition of success:
"Estella Struck describes success as a feeling within your gut in which you finally believe in yourself and see that at work. Estella believes that success stems from your team constantly putting work in and striving to better themselves and the start up. She views her startups from the "glass half full" perspective and looks at each small step as a success. She celebrated the creation of her startup which happened throughout the course of only three months.
For this question, success has a deeper meaning for Estella and has been something that she has analyzed throughout all her life. She acknowledges that it is easy to focus on the negatives, but it is important to look at aspects of life in a positive lens and try to see the good in every situation."
As far as my greatest success, I think that my greatest success is getting myself to where I am right now. Currently I am a college student handling 18 credit course load and a rapidly growing marketing agency that is shaping the future. To be here is a privilege.
What have you enjoyed most about starting your own business?
Starting my own business has been a wild and exhilarating experience. I've met so many amazing people through networking events and social gatherings. It's been incredibly inspiring to connect with like-minded and motivated individuals who share my passions for creating positive change in the world or passion for content creation. I've also built a content creator community here in NYC that I dreamed about when I was on my gap year. It's my 2020 FYP in real life except they are actually my friends now! And, of course, seeing my hard work pay off and watching everything come together has been incredibly rewarding. But there have definitely been moments of perplexity and uncertainty along the way. Sometimes I feel like I'm bursting with ideas and other times I'm at a loss for what to do next. But that's just part of the journey, right? I think what keeps me going is the knowledge that I'm making a difference – like on those unseasonably warm winter days, I know that I'm doing my part to fight climate change and that feels pretty good.
What do you think the future holds for the creator economy?
I'm excited about the future of the creator economy and the potential it holds for positive change! Growing up in the 'influencer generation' I've seen the power of the online world ever since I was a kid. As more and more people turn to social media for inspiration and entertainment, creators have a unique opportunity to use their influence for good. By partnering with sustainable brands and promoting climate action resources, creators can encourage their followers to make more conscious choices and lead a more sustainable lifestyle. I believe that the creator economy will continue to evolve in this direction, with more creators and brands recognizing the importance of sustainability and working together to create a better future for all.
Describe a typical day in your life. How do you practice sustainability in your daily life?
On a typical day, I wake up at 7 am and hit the gym before starting a busy schedule filled with classes, brand meetings, networking events, and brand activities. As someone passionate about sustainability, I have made a conscious effort to incorporate sustainable practices into my daily routine. I prioritize buying from sustainable brands for my skincare, shoes, phone cases, and backpacks, and approximately 90% of my clothes and apartment furnishings are secondhand. I also make my own coffee at home and bring a reusable water bottle with me wherever I go. Living in NYC I prefer walking everywhere, which helps me log in 10k to 15k steps per day. I am also constantly seeking knowledge and learning about sustainability. This is evident in the classes I take, which are titled the theory and practice of sustainable investing, global business and human rights, greenworlds, and others. I also spend my day working on Viviene NY , where I consult with sustainable brands and content creators to create a more sustainable world. However, I recognize that sustainability looks different for everyone. I believe that small steps can make a big difference, and I'm committed to exploring how everyone can make a positive impact.
What advice would you give to someone who is trying to become a green entrepreneur?
Best of luck to you on your journey to becoming a green entrepreneur! Remember, it's a process and it takes persistence and patience to build a successful business. There will be obstacles, but stay true to your vision and don't give up easily. When it comes to networking, don't underestimate the power of LinkedIn. It's an excellent platform for connecting with other green entrepreneurs, finding potential partners or investors, and promoting your brand. Make sure your profile is up-to-date and highlights your expertise and passion for your project. Trust me, LinkedIn is underrated but might be the key to your company's success!
What's your mantra for life?
Trust your gut. I always had a feeling that I was going to go out and do great things for the world and that I had something special. This turned out to be true so now I know to just trust my intuition, enjoy the journey and keep taking the leaps. 
Find Estella Struck and learn more about her work at Viviene New York. For any queries, you can reach out to them at contact@vivienenewyork.com.
This is a part of a series where Green & Beyond explores the stories and takes a peek at the lifestyles of incredible people like green entrepreneurs, innovators, climate advocates, activists, community leaders, and content creators, all around the world, who love the planet, and are working tirelessly to make the world a better place.