The film industry has a significant influence on popular culture and trends, including fashion. As concerns about the environmental impact of the fashion industry continue to grow, it is becoming increasingly important to bring sustainability into all aspects of fashion, including the film industry. Promoting sustainable fashion in the film industry can not only raise awareness about the importance of sustainable practices but also encourage viewers to make more conscious fashion choices. Moreover, this can inspire designers, filmmakers, and consumers alike to consider the impact of their choices on the planet and take steps towards a more sustainable future. We had the pleasure of taking an interview with Debora Frosini, a sustainable fashion designer who recently collaborated with the Tuscany actress Shari Fontani to bring sustainable fashion to the big screen.
Debora's Journey of Introducing Sustainable Fashion in the Film Industry
Debora Frosini's journey in fashion started after high school after working for various brands in the knitwear industry. However, it was her collaboration with a sustainable fashion brand in Florence that led her towards a more sustainable approach to fashion. In 2021, Frosini launched her own sustainable knitwear brand, Atelier Biologico, which is inspired by nature, tradition, and Tuscan craftsmanship. Her passion for sustainability and fashion led her to collaborate with Fontani for Alessandro Baccini's latest film, 'The Last Fighter', which brings attention to the Syrian war and sustainability. Frosini's work on the costumes for the film showcases her commitment to sustainable fashion.
Designing costumes for a film sounds like a dream job. Tell us about your journey to get where you are today.
I grew up in a family where I was lucky enough to always see my grandmothers, aunts, and mom sewing or knitting. After high school, I started working with my mother in her knitwear workshop. During that time, we worked for different designers and brands, so I was able to learn a lot. Later, I spent over ten years collaborating with one of the first sustainable brands in Italy. The founder was an agronomist who taught me so much about the fashion industry and its impacts on the environment. During those years, we collaborated with schools, brands, and even with special events and I met plenty of enthusiastic people in the field.
When I realized what was happening in the fashion industry and how destructive it had become for our planet, I was shocked. Since that moment, my life had totally changed and I couldn't look at the world around me with the same eyes. It was during that time when I met the Tuscany-based actress and model Shari Fontani and we became friends.
She was very interested in sustainable fashion and we collaborated on different projects like an 'ARTIVISM' shooting for a competition launched by Fashion Revolution Italy. Although we weren't selected, I believe that artivism has no winners or losers. Artivism is just an art form to complain, to reflect, to do something active.
When Shari was chosen as the co-protagonist in Alessandro Baccini's film, she asked me to dress her up for the movie. After learning about the theme of the film and the story, I decided to go for it because it could be a wonderful opportunity to bring sustainable fashion to the cinema world. Nobody talks about what happens behind a movie's production, nobody thinks about the environmental impact of the heaps of costumes used, creating the setups, the makeup, the gadgets used for the promotion, the meals, and so on. Could you imagine a zero-impact film production? How wonderful it would be.
To me, my 'masterpiece' was the elegant long dress that Shari wore at the Venice Film Festival in 2019. I made it using certified organic undyed linen with my mom's help who collaborates with me in our knitwear atelier. Can you believe that I had it in my mind before starting to make it?
So, all in all, my dream slowly came true as I got the opportunity to show the world that another kind of fashion is possible; a fashion with zero negative impact on the environment, a fashion that has elegant and simple designs that reflect the symbol of my atelier thanks to the small roses on it.
What were your inspirations for designing costumes for "The Last Fighter"?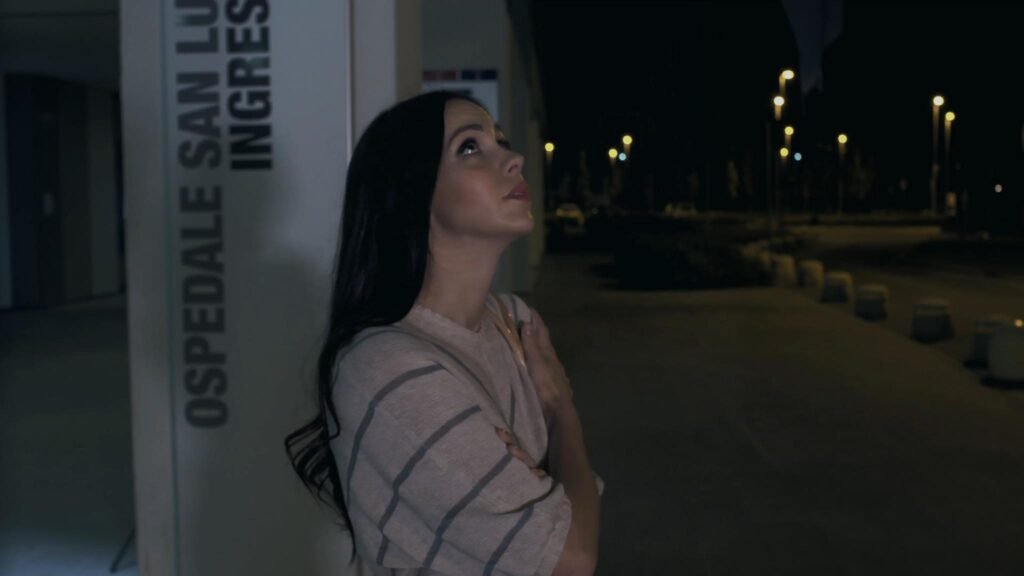 To design and make the costumes of Shari Fontani in 'The Last Fighter' film, I was inspired by her character. She plays a young beautiful woman, who is a doctor and later becomes a mother-to-be. She wore clothes with simple timeless designs to spread an important message, which is – don't follow trends, be your own trend. Be yourself and take care of your clothes.
I think wearing clothes with simple designs is easier to match and re-wear. And choosing colors we love and not following trends help us to make the best use of our clothes, giving them longer lifespans.
What challenge(s) did you face while designing these costumes to bring sustainable fashion in the film industry?
The 'challenge' was to use fibers with the lowest environmental impact and make sure that no workers were exploited in the process. We made the costumes in the same place with our own hands, with the highest transparency. But being able to support the local handcrafting culture is a dreamy opportunity and I'm deeply grateful for this.
What inspired you to become a member of the Slow Fashion Movement Italia?
I've been a member of Slow Fashion Italia since November 2022, so very recently. I decided to join them because I love collaborating to educate people and being a part of a group that does that too was something exceptionally wonderful, especially because I had the opportunity to exchange ideas, opinions, and experiences with other members.
There are so many people in the world who are still either unaware or don't want to believe in climate change – people who don't take any interest in knowing who made their clothes and in what conditions, or anything about the fashion industry's impact. So I think educating them about those things is important. And doing so with the help of a community can really make a difference.
Related: Conversation with Lena Hartog On Her Journey With Slow Fashion Movement
Tell us how you feel about working as a part of the team of award-winning filmmakers and producers like Alessandro Baccini and Domenico Costanzo?
To me, collaborating with Alessandro Baccini, the award-winning filmmaker and producer Domenico Costanzo along with actress Shari Fontani was a dreamy opportunity. I always loved movies and always hoped to be part of new projects in them in the future.
When I met them, the best thing I noticed about them was how much passion they put in their work. I couldn't be more proud of this collaboration and a special thanks goes to all of the members of the movie cast.
Your friend, actress Shari Fontani rocked your beautiful pieces on the red carpets. Tell us how she feels about your work and slow fashion.
When I met Shari for the very first time, she was really attracted to my work. She is someone who really understands the importance of slow fashion with a low impact on our planet. Since then, she has always been a great supporter and a beautiful model for my dresses.
I think finding someone in the 'stars system' who pays so much attention to the environment is very important. There are lots of young people looking up to them as icons. So, I think when someone is popular, it's their duty to set a good example. And Shari is doing a wonderful job at that.
Tell us about Atelier Biologico. How do you practice and promote slow fashion through your brand?
Atelier Biologico is my soul. It brings in its collections everything I learned and everything that I am. Every single piece is designed and thought to represent a message for future generations. Every single piece is born from a dream, an idea that later became real, slowly through the hands of two generations with the creativity and manuality of more.
Atelier Biologico was born almost 2 years ago after a long journey of spending a terrible time during the pandemic when I finally found the courage to start it off. My work started with deep research focused on yarn and how to work with it by having the lowest impact on the environment; humans and all creatures who live on our beautiful planet.
Atelier Biologico is a representative member of Florentine culture. In the past, we had so many people who worked with the loom, especially in Prato. Nowadays we are risking losing most of the authentic artisanal works in the name of profit.
With my knitwear brand, I want to make clothes to measure, repair or modify yours. I usually make small capsule collections or unique pieces. I love sharing my work on socials, collaborating with organizations and schools, and participating in events because these are great opportunities for educating, ideas exchange and meeting other beautiful artists or conscious living promoters.
As a fashion designer and entrepreneur, how do you envision the future of the fashion industry?
I learned to live in the present so I don't know what the future of the fashion industry will be. But I know what we can do today. We need to find a way to push strict laws about factors like ensuring workers' rights, ethical supply chain processes for fibers, and the chemical dyes used in our clothing. But above all, we must start asking ourselves questions; and we need to stop thinking that someone else will save us. We are our own superheroes. If we all start taking small steps every day, I'm pretty sure we'll see a big change in the world in a short time.
We just need to believe it.
What are your future plans?
I do and always will live in the present and follow my fate doing what I love and I'm glad for all the unexpected opportunities that life has given me so far.
Debora's work of promoting sustainable fashion in the film industry surely adds a stepping stone towards a more sustainable world because it will not only encourage viewers to make more conscious fashion choices but also inspire aspiring designers, filmmakers, and consumers alike to consider the impact of their choices on the planet and take steps towards a more sustainable future.
Photographers: Danilo Cappabanca, Suyen Tommasi, Paolo Catucci and Francesco Pianigiani.
Find Debora Frosini and learn more about her work at Atelier Biologico here.